Vivian Coleman is a follower of Jesus, and an ordained Presbyterian minister; between 2009 and 2015 she was seconded to a pastoral role at a Baptist church in Auckland. In 2016 she completed a Master of Business where her thesis topic was Performance Management of Clergy in NZ Presbyterian and Baptist churches. She is now self-employed as a discipleship and ministry coach, serving both traditions, in an all-encompassing term that covers leading services and supervising pastors, resourcing discipleship training and writing about management in the church. She is married to Ric, an Auckland GP, and they have four children and seven grandchildren.
BSc, B Theol, MTS. M Bus.
Registered supervisor with
CAIRA NZ
, 2005-21.
Te Pou Whanau
The Coleman McLeay Family Totem Pole was designed by Ric Coleman and carved with a chain saw by Mark Jones in 2014.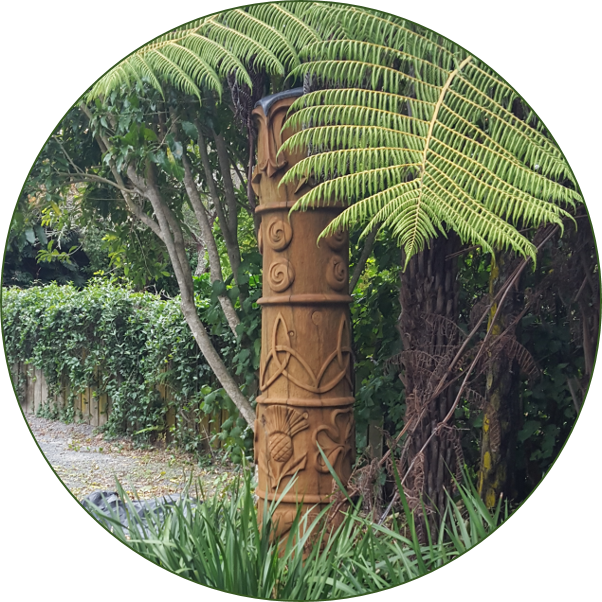 The bottom layer shows a Nautilus Shell that Viv has used for a personal logo in the past. It is based on a painting by Sheridan Booth, that was given to Rev Viv when she left her 12 year role as minister at Howick Presbyterian Church. The shell has always spoken to Viv of a mysterious but unfurling spiritual life, not unlike a koru.
Next up are icons that reflect the Scots and Irish heritage of Viv (thistle) and Ric (shamrock).
An ancient Celtic symbol of the Trinity is carved in the middle layer.
Maori symbols representing Viv and Ric's grandchildren come next. First there are seven curving circles which depict love of family - seven at the moment but room for more!
Next at the top the four stars which come the Coleman Family crest symbolise the four adult Coleman children. The totem pole sits in our garden at Cockle Bay in Auckland and will go to one of the family when we are no longer living there.
Viv has used it as her personal and business logo since 2015.